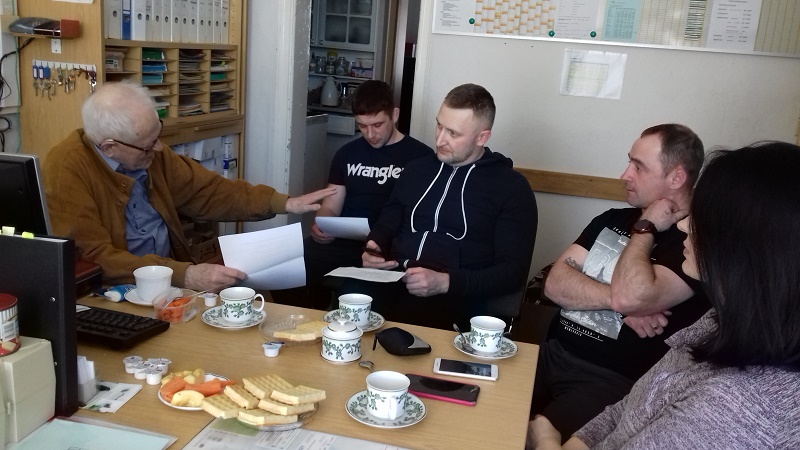 Meeting with our Russian partner Pastor Asanov of the "Healthy Generation" Kaliningrad and provision of relief goods on April 15, 2019 in Penkun.
….
Photo: T. v. Below, A. Dyuchkov, Pastor A. Asanov mit Ehefrau und Mitarbeiter
1st topic: Update and planning adjustment of the last construction phases for the new building of the rehabilitation center Schatrowo/RUS in Penkun.
2nd topic: Handing over of the subsidies in the amount of €10,000 from the Selzer Foundation for the outdoor facilities (access) of the therapy center.
…
The focus of the meeting with our partners from Kaliningrad was first the accounts and final adjustments for the completion of construction phases 9 and 10 (interior fittings, technical equipment, and furniture), so that everything can be completed on time by the inauguration on the 18th of May.
For construction phase 11, the building arrangements have been specified so that the outdoor facilities can also be completed by the summer. We would like to thank the Hans-Joachim-Selzer-Foundation for the great earmarked support of €10,000 from the bottom of our hearts. It will be used for the construction of the access to the therapy center.
Our partners had the ambition to realize the outside facilities completely (ahead of schedule), if possible, by the time of the inauguration. Today we have agreed that we prefer to take this pressure off and allow time until July or August for this; also because the rest of the required funds cannot be handed over until May.
We are extremely grateful that, thanks to the generosity of many partners and friends, we are able to experience the miracle that a completely new therapy center could be built in such a short time. We are therefore confident that we will actually largely complete the new building and the work on the outside facilities planned in construction phase 11 this year.
We hope that by the end of the year the property can be equipped with a solid fence. For this 12th construction phase – the fencing of the site – a total amount of €13,000 is required. The EMG would like to participate with an amount of €8,000, which has yet to be obtained. We hope to achieve this by funding and donations, which will otherwise have to be prefinanced with a loan.
Then only the construction of an outbuilding with garage would be left to finally complete the project. This construction project is planned for 2021. However, we have not yet got beyond a draft planning in this last construction phase, because in the few weeks until the inauguration of the house all forces are tied up to finish everything in the usual high quality.
Will we see you on May, 18 in Schatrowo?