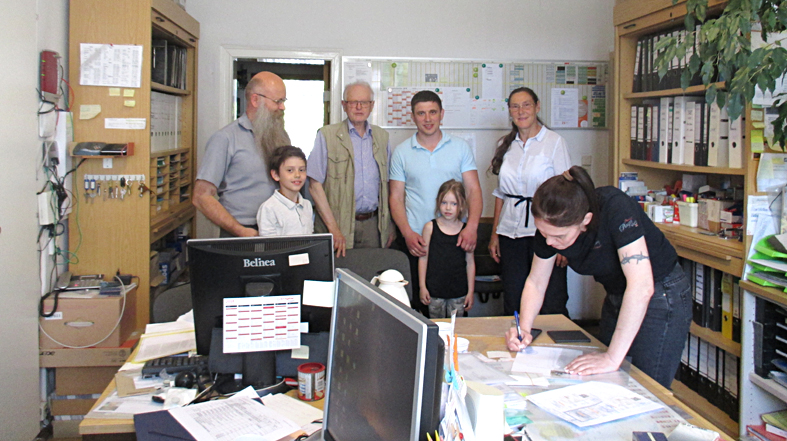 Once again, the brothers and sisters from the Kaliningrad region of the "Healthy Generation" Fund visited us to make arrangements as to which constructional steps can be taken next in the "New Schatrowo" project. In the run-up to the project, a decision was made on the further financing of these construction measures. Thus, on May 14, 2018, we were able to give our partners a sum of 5,000 euros thanks to project-related donations received. With this money, the water and heating installations of construction stage 8 will be realized. Then the well construction works and equipment as well as the gas connections remain. The funds are already available and will be handed out at the end of May.
For the purchase of a hay baler for the drug therapy center in Snamenka, which is also run by the "Healthy Generation" Fund, 1,000 euros were donated, which had previously been paid into the EMG donation account by a generous donor.
Also, for the 9th construction phase with the screed and tile work as well as the drywall construction and painting work, we have already been promised a grant from "Hilfe für Brüder" (Help for Brothers) amounting to a total of €15,000.
In addition to the finances, our brothers and sisters also received a small amount of relief supplies, because they only had a minimal possibility of transport. This time the goods were cosmetics and hygiene articles, clothing, shoes, toys, and food.
Handing over of further finances for the final works for construction phase 8
On May 30, 2018, Pastor A., a representative of the management team of the project "Schatrowo", visited us to receive another 5,000 euros for construction phase 8. Now the well construction works, and equipment, as well as the gas connections can be carried out.
So far, we have experienced a chain of miracles, which makes us confident about the rest of the project.
For the still missing funds of €20,300 to complete the interior work, we hope for a new miracle from God.
We are happy to accept donations at:

EMG e.V.
Sparkasse Uecker-Randow
IBAN: DE 14 15050400 3420001818
BIC: NOLADE 21 PSW
Verwendungszweck: PJ 2016-051 – Neubau Schatrowo