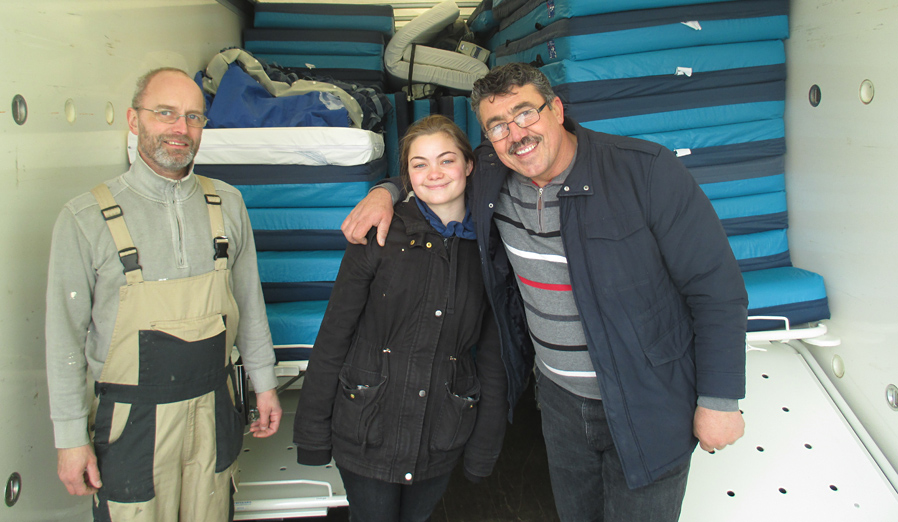 On February 2, 2017, we received another visit from our partner of the IGFM to collect further relief goods for a truck transport to northern Iraq. The cargo is distributed to various places where the need is greatest – some of it also in the still embattled Mosul.
In advance, EMG was able to provide many medical aids and other high-quality goods: 9 nursing beds with infusion holders, 70 nursing and incubation mattresses, 1 patient transport chair, 22 wheelchairs, 10 rollators, walking supports, toilet chairs, a large batch of incontinence material, and many sets of baby clothing, school uniforms, scarves and hats, and toys.
Before we brought the wheelchairs and rollators to Penkun for truck loading, our staff in Glasow checked them for functionality, cleaned and repaired them.
For the training of the local staff, we were also able to send sewing machines and a whiteboard for the office in Dohuk.
Emergency medication and medical technology are still loaded on the way. Another large transport, each with 50 wheelchairs and walkers, 20 to 30 IV poles and about 35 shower chairs, will be transported from the Giessen interim storage facility to Frankfurt am Main on February 4. Everything is expected to arrive in Iraq later this month.
We are very grateful for the many kind donations that we can collect or arrange for our partners again and again. Due to the considerable additional costs, we are also urgently dependent on donations in order to continue this service in the usual quality.
Special thanks once again to Bernd Schimanski, who made contact with the manager of the senior residence "Friedrichsau" in Ulm, who donated the above-mentioned relief supplies for the GAIN interim storage facility.